Event Calendar
May 23, 2017 - Choice of AM or PM Session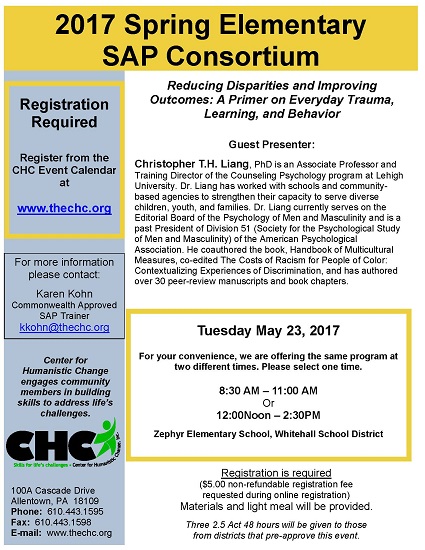 Location:
Zephyr Elementary School
Description:

Trauma and Diversity- an event for SAP professionals

When: Tuesday May 23, 2017
Where: Zephyr Elementary School, Whitehall School District
Choice of Times: 8:30AM - 11:00AM ~OR~ 12:00Noon - 2:30PM

The programs will be identical, please select the time that you prefer. Seating is limited to 25 people each session, first come first serve.

Cost: Registration is required; $5.00 non-refundable fee requested during this online registration process
Materials and light meal will be provided.

Center for Humanistic Change is excited to host the 2017 Elementary SAP Consortium at two times. The presentation is: Reducing Disparities and Improving Outcomes: A Primer on Everyday Trauma, Learning, and Behavior.

Guest Presenter, Christopher Liang, PhD is an Associate Professor and Training Director of the Counseling Psychology program at Lehigh University. He studies:

• the role of coping and cognitive processes in the association between perceived ethnic discrimination and mental health outcomes among people of color;
• the role of masculinity in the health-related and sexual behaviors of men, with a focus on help-seeking and preventing gender-based violence;
• the intersections of gender, culture, and perceived discrimination in the lives of ethnic minority women and men in the United States; and
• the effectiveness of a modified evidence-based school-based intervention on the academic well-being of youth of color in urban settings.

Dr. Liang has worked with schools and community-based agencies to strengthen their capacity to serve diverse children, youth, and families. Dr. Liang currently serves on the Editorial Board of the Psychology of Men and Masculinity and is a past President of Division 51 (Society for the Psychological Study of Men and Masculinity) of the American Psychological Association. He coauthored the book, Handbook of Multicultural Measures, co-edited The Costs of Racism for People of Color: Contextualizing Experiences of Discrimination, and has authored over 30 peer-review manuscripts and book chapters.

** Two and a half (2.5) Act 48 hours will be given to those from school districts that pre-approved this event. Pick up your certificate at the end of the event before leaving.**

The information you enter during the registration process will be used to contact you, should there be any changes to this event.

This form stopped accepting submissions on May 22, 2017 12:00 pm EDT.