Event Calendar
3-Day Training, April 3, 5 and 9, 2018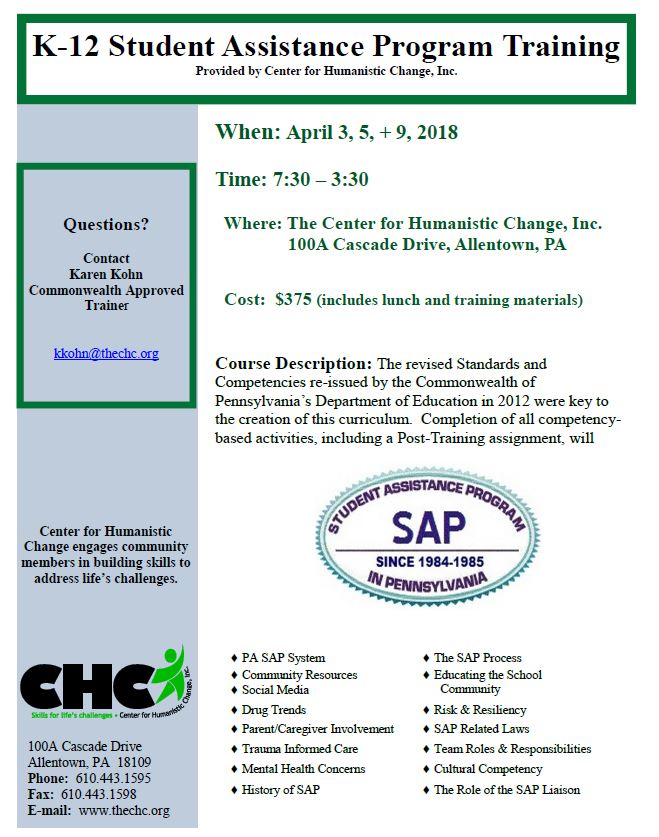 Location:
Center for Humanistic Change, 100A Cascade Dr., Allentown, PA
Description:
This training is based on the revised Standards and Competencies re-issued by the Commonwealth of Pennsylvania's Department of Education in 2012. Completion of all competency-based activities, including a post-training assignment, results in SAP K-12 certification and receipt of 30 Act 48 hours.

When: (3-day training) April 3, 5 & 9, 2018

Time: 7:30AM - 3:30PM
Where: 100A Cascade Drive, Allentown, PA 18109
Cost: $375 (includes lunch and training materials)

Upon completion of all assignments, your certificate will be sent to your HOME address. Please be sure to fill in your home address, not the school or agency you represent, when you fill out the registration form.

This form stopped accepting submissions on March 7, 2018 3:30 pm EST.
Contact Information:
Karen Kohn, Commonweath Approved SAP Trainer